Best Yoga Exercises For Reducing Belly Fat – Yoga is an age-old science developed over the centuries and it is known for its effectiveness in curing all sorts of health related issues. Contrary to popular belief yoga can also help you reduce your belly fat. This article deals with the best yoga exercises for reducing belly fat.
1:
Surya Namaskara

:

This is a series of poses compiled as a salutation to the sun. This is one of the more fast paced sequences in yoga and can alternatively be performed slowly. This is effective not only for belly fat but it activates the body as a whole making you feel energetic, flexible and fit. The Surya namaskar consists of 12 asanas that is to be performed as a sequence. It is one of the most recommended exercises for reducing belly fat.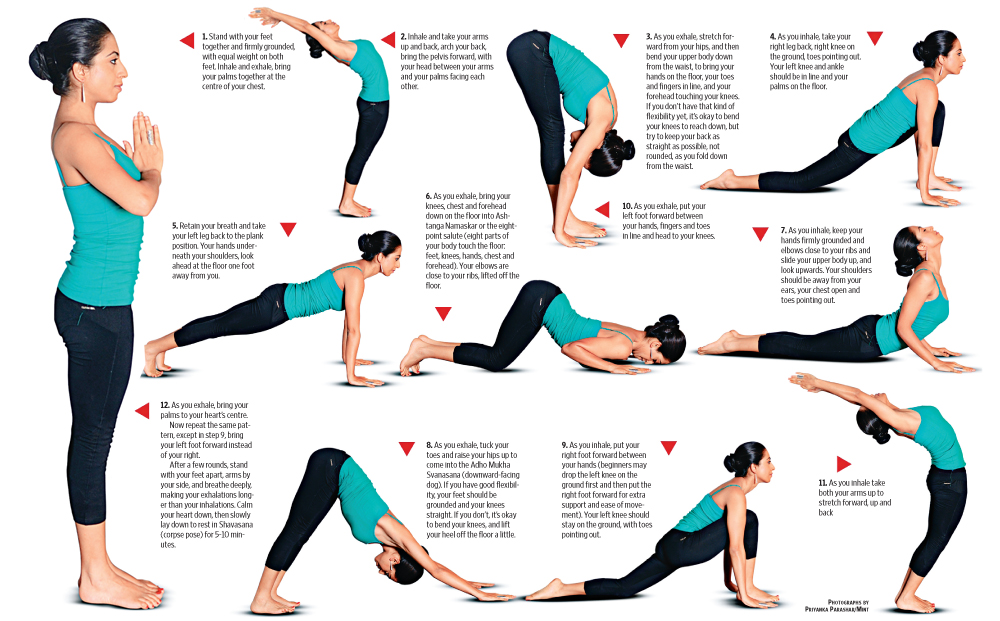 2:
Bastrika Pranayama

:

Another effective one amongst the yoga exercises for reducing belly fat is this intense asana. This is a breathing exercise that engages your respiratory system and abdominal muscles. Seat yourself on a yoga mat in a cross-legged position with your back straight. Now raise your hands straight above your head and simultaneously inhale sharp and hard as much as you can.  Hold your breath for a count and sharply exhale completely, simultaneously bring your hands down in one swift motion such that your fist is at the level of your chest.
3:
Kapalabhati

:

This is another intense one amongst yoga exercises for reducing belly fat. Seat yourself similarly as the asana. Now inhale deep and long and hold it. Exhale short and hard breaths by using your abdomen to push the air out.
4:
Urdha Mukha Svanasana

:

This is a stretching exercise amongst the yoga exercises for reducing belly fat. Lay on your tummy on a yoga mat with your palm pressed to the floor beside your chest. Then push your upper body up by balancing your hands such that only your legs from below the abdomen rest on the mat. Now look on top and hold the pose.
5:
Naukasana

:

This is the boat pose that will ensure you a flatter belly in no time. Lie down on the yoga mat and raise your hands, chest, head and feet into the air such that only your abdomen is on the floor. Hold your hands and feet parallel to the ground. This is the most exhausting amongst yoga exercises for reducing belly fat.
Reducing belly fat through yoga is highly effective and it is a different approach. Try these poses for a month and see the differences by yourself. For results be consistent in your exercise routine.