The US Army has brought out old warplanes from the Vietnam War era to fight against the Islamic State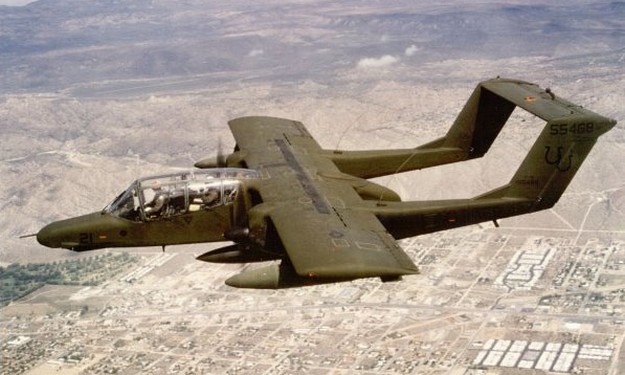 The OV-10 Bronco Turbo-Propeller Plane belongs to the Vietnam War era. The US army is seeking to confirm whether this light aircraft can effectively be used for counter-insurgency operations.
Captain Bryant Davis of the Central Command stated that the Vietnam War planes flew more than a hundred missions against the Islamic State. The Central Command is responsible for the military operations in the Middle East.
The OV-10 Bronco Turbo-Propeller Planes are operated by a crew of two persons consisting of a flight officer and an aviator. The experiment seeks to establish whether slower planes like the Broncos will be able to provide better support to the ground forces in combat with the Islamic State fighters on the ground, and whether they are more effective than their more expensive and technologically advanced counterparts like the F-15 Eagle and F-35 Fighter Jets.
The actual idea is that old aircrafts can provide more cost effective air support to the ground troops since they will allow the pilots to see the insurgents in a much better way. A retired naval aviator, Cmdr.
Chris Harmer recently said in an interview with a news channel that the idea was simply brilliant. He further stated that the Bronco is a great plane and there must have been fighting among US pilots regarding who will get to fly it in combat. He also claimed that the Bronco was a very cost effective solution compared to the latest jets that have price tags of 150 million dollars apiece.
Harmer compared flying the latest jets against insurgents to taking the Rolls Royce for dumping the garbage. As per his estimates, a modern jet will cost around 45,000 dollars per hour whereas the Bronco will cost less than 5,000 dollars.
The Air Force fact sheet states that the F-15 Eagle offers a cruising speed of 570 miles per hour while the Bronco offers a speed of 223 miles per hour. The slower planes are more vulnerable to the enemy's anti-aircraft missiles but the US Army claims that they will be highly effective against low-tech enemies in Afghanistan and Iraq since the insurgents in both the environments have very limited anti-aircraft capabilities.
A former Army Ranger, Paul Scharre stated that the Bronco will serve as a middle ground between a highly advanced jet and a drone. Scharre has served in Afghanistan and Iraq and knows the territory and the battlefields very well.
According to Scharre, the Bronco has the ability to hover over the battlefield for hours, but unlike the drone, the pilot of the Bronco has much better visibility of the battlefield. He will be able to see the location of the enemy and attack him directly with bombs and machine guns.